discover the world of Industry 4.0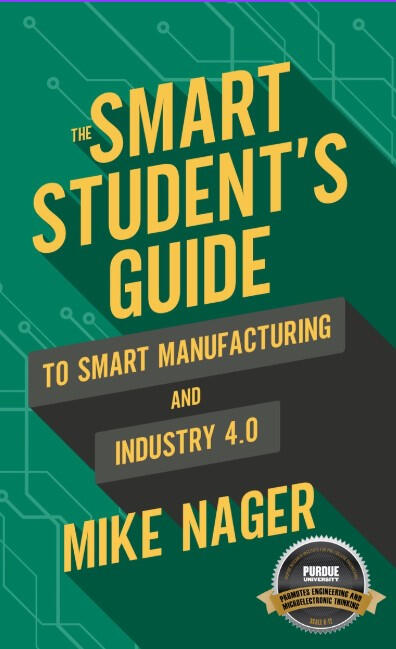 The Smart Student's Guide to Smart Manufacturing
Smart Manufacturing and Industry 4.0 offer tremendous opportunities for young people and those looking to re-skill. Learn how you can be part of it!Hardcover: $19.99
Paperback: $14.99
Ebook: $7.99 (see special offer below)
---
The Undeserved Bad Image of Manufacturing
Learn why in the United States manufacturing has a poor reputation (hint, it's not due to automation) and why this negativity is hurting the industry and those that would benefit from being employed by it.The worst part? Many young people or those looking for a new career are overlooking a career in manufacturing -- an industry has high pay and good benefits.With the current re-shoring movement, more manufacturing will be done in the USA and those with skills are in high demand!
---
Book Reviews
✯✯✯✯✯ Get the book and pass it along to every high school student you know
✯✯✯✯✯ Fun, must read book about Manufacturing and Industry 4.0
✯✯✯✯✯ Pilot, Astronaut, and Manufacturing Engineer?
✯✯✯✯✯ Must read about the manufacturing industry
✯✯✯✯✯ An easily digestible read!
✯✯✯✯✯ Fits our homeschooling needs, especially with the discussion topics at the end of each chapter and the list of popular movies that feature the technologies
---
**Read right now!
Buy Ebook Right Now!!
$7.99
Available immediately at online retailers!
Cost-Effective Investment!

Easy to Read - No Jargon!

Discover the invisible job market
Hardback / Paperback
$19.99 / $14.99
Need bulk pricing on 15+ copies?
Want to customize and re-sell this book?
Send us an email!
Contact Us
Like the book? Contact us for inquiries about Keynote conference addresses and workshops that bridge the gap between industry and education!
---
© Industrial Insights LLC. All rights reserved. 2022Like this website design? Use this Referral Link to sign up to carrd.co to make your own (will earn me a small commission but cost you nothing more).